It's been a long time since I've been invited as a guest voice over artist to a convention, so I was so excited to be invited to two within a month of each other. The first was Fandom Invasion which took place October 30th, 2021, in Escondido, California near San Diego. I later attended Anime Iwai in Florida.
It was a multi-genre convention that included all sorts of Sci-Fi, Steampunk, and other fan favorites involving movies, games, and comics. I represented the anime portion because the founders Shawn Mullen and Shawn Richter were fans of my work on Robotech. It was their first convention, even though they have been involved in the Science Fiction Coalition for many years. There were a few bugs to work out, but I thought it turned out great.
Convention Guests
I didn't know the other guests beforehand, but they were a fun group.
C. Andrew Nelson wore the costume of Darth Vader for 12 years for Lucas Films and did his voice for several Star Wars games. He is also a special effects artist. It turned out he was a fan of my work as well.
Troy Kotsur is a deaf actor and was a Tusken Raider in Mandalorian and has also appeared in many other film and TV roles. Who knew that he would become Oscar-nominated in 2022 for his role in the film CODA?
UPDATE! OMG! Troy Kotsur WON the Academy Award this year for BEST SUPPORTING ACTOR and the film won as BEST film? Now I wish I had spent more time with him.
Carrie Henn was Newt in Aliens. She was a child actress then and won awards for her work.
Isaac C. Singleton Jr, a very funny man, appeared in Pirates of the Caribbean, the Mandalorian and has an extensive film and TV resume.
Alan Fernandes was one of the original Tusken Raiders in Star Wars Episode IV and now works as an animal trainer.
Julie Dolan is a voice over actress who has voiced Princess Leia for Disney rides and theme parks, as well as other voice over, film and TV work and was in VH1 Classic Rock series: "Rock & Roll Fantasy Camp" – Season 1 where she performed various rock idols.
Lee Kohse is an award-winning illustrator, designer, and art director. He's worked on all sorts of shows from Star Wars to Robotech and gave me a gorgeous poster of Lynn Minmei while I was there.
Selling autographs
Fandom Invasion was the first convention I've been to where I sold autographs in the dealer's room. I know selling autographs is now the norm but having done conventions previously where that was not the case, it took some getting used to. Fortunately, the staff was extremely helpful in getting me up to speed. They made me a banner, prints, and were incredibly attentive.
Train Ride
I took the Amtrak Surfliner down to Oceanside to get there which was fun and then spent a couple of days visiting my brother who happened to be at his beach house in Mission Beach. You can read about that on my main blog, which has nothing to do with voiceovers.
Enjoy these pics from Fandom Invasion 2021. Click on the images to view them full size in a gallery.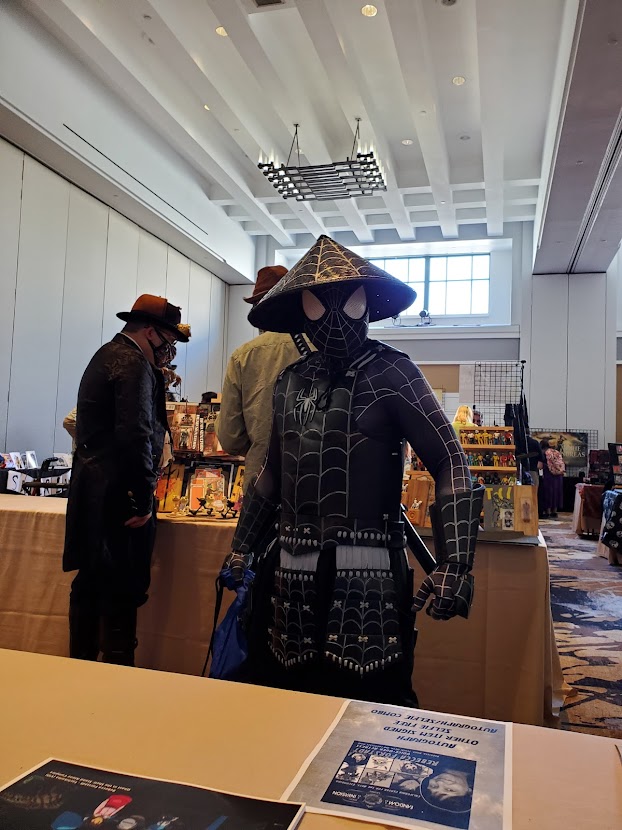 I love doing conventions. If you would like to invite me as a guest, contact me here.
Privacy Policy – This post may contain affiliate links. I will receive a tiny amount of compensation at no cost to you if you make a purchase.