Wow! After several years of obscurity, due to life circumstances, and, of course, COVID, I found myself invited to two conventions within 2 weeks of each other. After my appearance at Fandom Invasion in Escondido, I flew out to Fort Lauderdale for Anime Iwai.
It was so much fun for me because A, I love to travel, and B, my aunt lives in nearby Pompano Beach. It's always wonderful when you can go to an anime convention and then catch up with a relative or friend at the same time.
3 days of anime fun!
I arrived Thursday night and spent three nights at the Marriot North. The staff was super attentive and took great care of me while I was there. It was a somewhat small convention but because COVID is still an issue and it was located in Florida, not well known for its COVID protocols, that was fine with me. Everyone wore masks, used hand sanitizer, and took precautions.
I had done my 2 shots and COVID booster so I wasn't worried at all and spent most of the days I was there at my autograph table in between two twenty-something-year-old actors, Bryson Baugus from Houston, and Brandon Winckler from Los Angeles. They were both adorable and sweet. I was the old lady of the crowd and billed as one of the Grande Dames of English dubbed anime. Hey, someone has gotta do it, right?
Other guests included Jennifer Cihi who was a singer/actress in Sailor Moon, and Ben Brainard, a standup comedian who looks like he is about 12 but was also adorable.
My panel was a look back at Japanese dub nostalgia
In the past, most of my panels have been with other voice actors in a group setting such as with the cast of Robotech or Tenchi Muyo. For this convention, I came up with the idea of doing a panel about anime dubbing in the 80s and 90s and how things are different now. Despite the fact that my panel took place during the Cosplay competition, I had a nice group of fans who attended and it lasted the entire hour.
Attending conventions these days has been a learning curve for me
Of course, the two cute guys I sat in between at Anime Iwai were the most popular guests but I got my share of fans too. One guy was dressed as a full-on Veritech fighter from Robotech which was totally fun, but most of the fans attending were on the young side. Their favorite characters included Monami from Danganropa, Rika Furude in Higurashi When They Cry, Nunnally in Code Geass, and Tachikoma in Ghost in the Shell. Now, if I get invited to more conventions, I'll know the best photos to bring.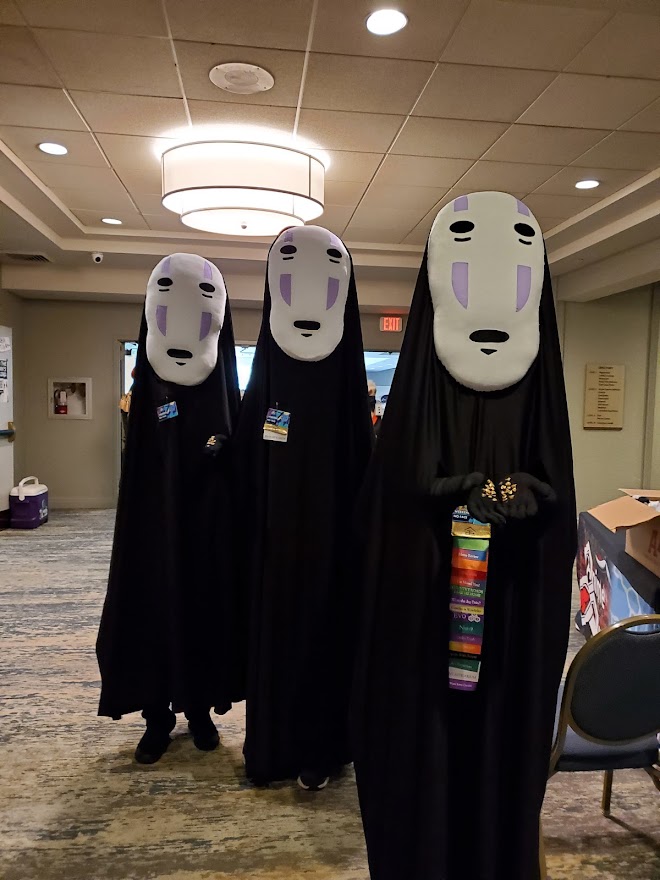 Invite me to your next convention
I'm ready to travel at any time these days. If you are planning a convention or know someone who is, I am available. Just contact me here. You can also purchase autographs here. If you have any favorite characters that I have played, please leave a comment below.
I just started a TikTok page specifically for my voiceover work. Right now it needs help and followers because it's brand new. Please follow me here. You can also follow me on Twitter here.