Privacy Policy – This post may contain affiliate links. I will receive a tiny amount of compensation at no cost to you if you make a purchase.
It's hard to believe I have been a voice over actress since 1981 (40 years). ACK! How time flies! You may have heard my "young-sounding" voice in hundreds of Japanese anime cartoons but I've also done my share of commercials, animation, video games, audiobooks, and ADR.
I'm based in Los Angeles and you can contact me at rebecca@rebeccaforstadt.com SAG-AFTRA since 1981.
If you are looking for a young-sounding voice, mine never grew up. I can record in my closet but freely admit I didn't sign up to be an engineer. However, I am fully vaccinated, passport-ready, and love to travel and do conventions when invited.
When I'm not recording voiceovers, I'm probably working on my blog. (not VO related)
My back story
I started out as an actress doing theatre in high school and college. My first paid professional gig was performing melodramas at Knott's Berry Farm's Birdcage Theatre where I worked for 3 years doing 3-6 shows a day. Steve Martin started there and I worked with Lauren Tewes who went on to do The Love Boat.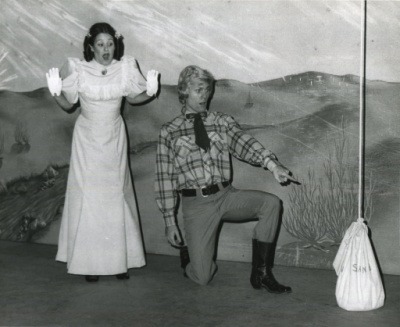 During the mid-70s, I moved to Los Angeles from Orange County, to make it as an actress. Not long afterward, I took a detour and was hired as an on-set wardrobe assistant for shows like The White Shadow, Hill Street Blues, and Blake Edward's SOB.
But in my heart, I still wanted to act so I quit my well-paying career to be in front of the camera instead of behind it.
I starred in two films!
Okay, they weren't A-Movies but. . .
My first starring role was in a film called Mugsy's Girls, later renamed Delta Pi playing a nerdy sorority girl. Singer Laura Branigan played my best friend, Eddie Deezen was my boyfriend and the great Ruth Gordon was our housemother. To earn money for our sorority, we entered a mud-wrestling competition and fought some of the GLOW girls.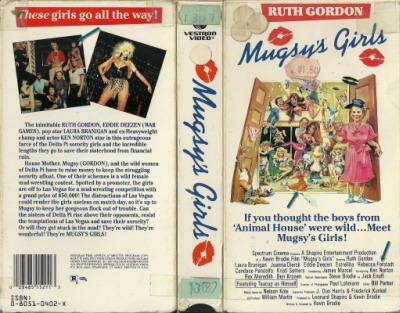 My 2nd "starring role" was in the film Round Numbers where I was a wacky receptionist in a high-end health spa. Kate Mulgrew, Samantha Egger, Shani Wallis, and Marty Ingles shared top billing.
My life in the theatre
During the 1980s, I was awarded Hollywood Drama-Logue Awards for outstanding performance as an actress in Ionesco's Tales, (as Josette) with Eugene Ionesco in residence, and Leonce and Lena (as Lena) both at Stages Trilingual Theatre in Hollywood.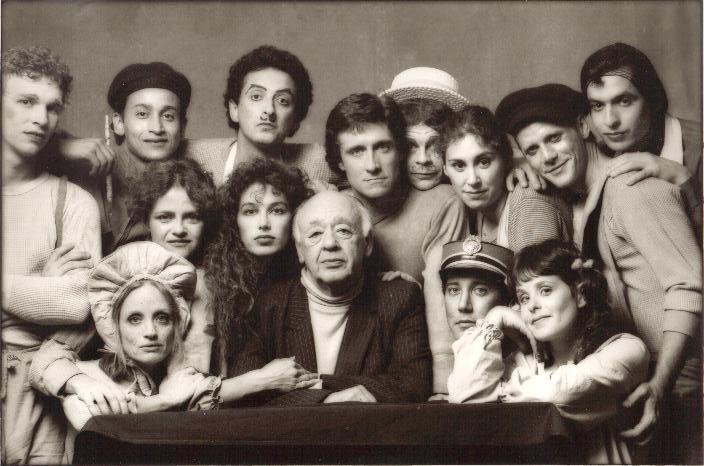 How I got into voice-overs
I earned my SAG card doing an on-camera one-liner on Hill Street Blues and a few lines on St. Elsewhere one week later.
My voice has always sounded child-like and it hasn't changed much to this day. While perusing Drama-Logue, I saw an ad for adult women to play kid voices at a sound studio on the Sunset Strip. It turned out they were dubbing foreign films and cartoons mostly from Japan.
The gig was a perfect fit for me and I worked steadily for decades as a voice actress playing young girls, some young boys, various creatures, and even a few monsters. I eventually became known as a "legend" in anime. My most infamous role was Minmei in the TV series Robotech which celebrated its 35th anniversary.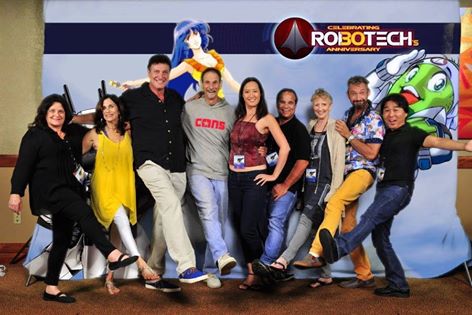 In the late 80s, I gave birth to two children so I decided to focus my career on voice-overs. The shorter hours made it much easier to be a good mom and it didn't matter that my belly was sticking out when I got pregnant. Now it just sticks out because I eat too much! LOL
For about 10 years I also adapted anime scripts, including several seasons of Digimon. Both writing and directing weren't for me, though, because I like to get out in the sun occasionally. LOL
My life had a few bumps
If you have the desire to become an actor, know that reality may sometimes derail your career. I lost my husband of 23 years to cancer in 2001, lost my boyfriend of 15 years to cancer in 2020, was a single parent to two preteens for a while, (which is my greatest accomplishment) experienced financial downturns, and got older. (not always welcome in Hollywood)
I had to do some side jobs to survive and live in LA while taking care of my kids. My advice to young talent is to have a backup plan. Also, be careful how you spend your money. Being a voice actor can be expensive. One thing I learned is how to set up my own websites and now I am also a blogger and brand ambassador.
Click here to SAVE MONEY and set up your own WordPress voice-over site
Life is good
Things have settled down for me. I'm living in a great place with friends and even though I had to take some time off to take care of ill people for a while, I am NOT RETIRED, am healthy, and happy.
So please contact me if I'm right for a role or if you want me as a convention guest.
rebecca@rebeccaforstadt.com or follow me on Twitter @rebeccaforstadt and check out my IMDB credits